Sustainability
at GENLED Brands
GENLED Brands prides itself on social and ecological awareness, striving to keep environmental responsibility at the forefront of its development of new products and services. From the sourcing and use of materials that reduce our global carbon footprint to creating protocols for effective disposal and recycling, GENLED Brands is conscious of being the company of the future — today.
OUR MISSION



To manufacture advanced LED lighting systems that work with smart controls to make a sustainable difference for our planet.
OUR PLEDGE
To provide our partners safe and efficient LED lighting solutions without compromising on our quality or reliability.
EMBRACING CHANGE
At GENLED Brands, environmental sustainability is key to our business, threaded throughout our global operations. Acolyte, our architectural lighting division, and AgiLight, our LED signage lighting division, run on transparent corporate governance practices that push each company to leave a positive impact around the world. We embrace change and accountability, and take chances to find ever-improving solutions that collectively move us forward.
SAVING ENERGY
We have decades of experience designing and manufacturing advanced LED solutions that provide better light while using less energy. We help customers drastically reduce energy consumption as they transition from more "traditional" light sources. From Fortune 500 companies to mom-and-pop shops and personal homes, GENLED Brands LED installations help save energy.
ELIMINATING WASTE
Our streamlined global production operations adhere to and exceed increasingly strict local tenets for saving natural resources by eliminating waste in the manufacturing and shipping of our products. Precision cuts and intensive inventory control minimize leftover products in our production facilities – our zero-waste approach means we use essentially every piece of what we manufacture. LEDs that don't meet our premium standards are sold for use by other companies. The longevity of our LED products lets our customers reduce waste by eliminating the need for rapid replacement of their lighting.
RECYCLING
Our signage modules and architectural fixtures are designed to last years longer than their traditional lighting counterparts. We don't use glass or hazardous materials like mercury, so when our end-users are finished with them, end-cycle disposal is simple. Their components can safely and easily be recycled. We also use upcycled, recyclable materials to package and deliver our products around the world. With new installations, we even recycle our competitors' products!
Click HERE for program guidelines.
Click HERE for the recycling form.
TECHNOLOGY
The in-house team at GENLED Brands uses advanced photometry to engineer innovative, cutting-edge LED solutions with sustainability at the forefront of our designs. We use the science of light to create products beneficial to our natural environment, health and well-being. The efficacy of these products fills our customers' energy commitments and, in turn, drives their sustainability programs.
SEE US IN ACTION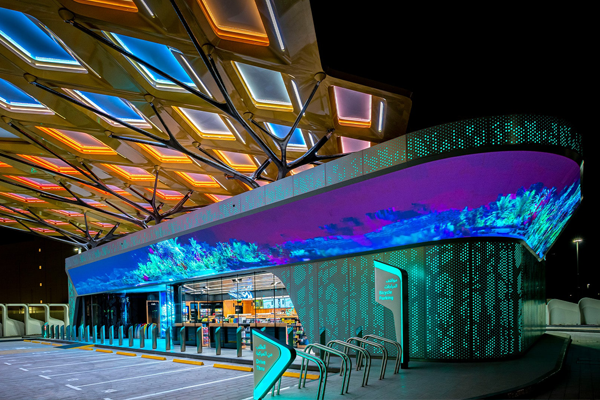 ENOC (AgiLight)
Emirates National Oil Company Group (ENOC) is a leading global oil and gas company operating in some 60 markets. The ENOC Group debuted its stunning Service Station of the Future at the Expo 2020 Dubai. The world's first LEED Platinum certified service station is inspired by the ghaf, UAE's national tree. It features a corrosion-proof leaf-shaped canopy. Photovoltaic panels generate solar power while a 25-meter wind turbine produces wind energy. Carbon filtration technology recycles water for irrigation. The main structure features perforated aluminum sheets illuminated by premium ULTRA 650 modules from AgiLight.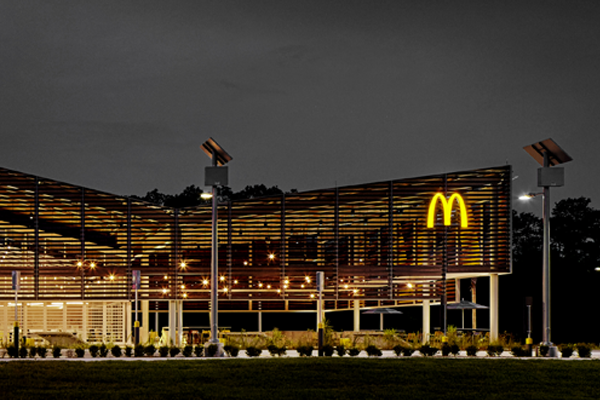 McDonald's Flagship Restaurant (AgiLight)
McDonald's unveiled its stunning Net Zero Energy global flagship restaurant in Orlando, Fla., in 2020. Designed to generate its own power to run a full restaurant operation with renewable energy, the flagship shop is on the west side of Disney World, near All-Star Resorts. The 8,000 sq. ft. restaurant features a V-shaped solar roof and photovoltaic glass panels throughout the building, which is adorned with more than 1,000 solar panels that can generate about 600,000 kWh a year. More than 1,700 sq. ft. of plant-covered "green" walls absorb CO2 and help retain water, and low-flow plumbing and special pavers minimize water waste. A louver system automatically opens and closes to let the building "inhale" cool air and "exhale" warm air, and customers can contribute kinetic energy by utilizing on-site stationary bikes to power string lights in the arches. The Schuler Shook design earned a Merit Award at the IES 2021 Illumination Awards! This stunning flagship store features our premium 12V ULTRA 650 modules.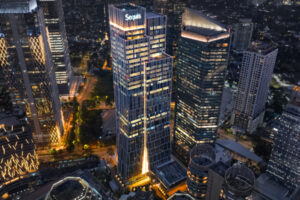 Sequis Tower (Acolyte)
One of only four LEED Platinum buildings in Indonesia, the 677-ft. Sequis Tower gets its design inspiration from the Banyan tree. Four "super tubes" provide structural resilience and rooftop gardens feature indigenous plants. High-efficiency systems and shading fins compensate for solar radiation on the façade to reduce energy consumption. The complex, designed by Kohn Pedersen Fox Associates (KPF), is the winner of several major architectural and "green" development awards. It plays host to office space, restaurants, retail stores and health facilities. Focus Lighting selected more than 2,000 super-efficient Armor Series Nano Linear fixtures from Acolyte to provide the signature lighting feature of the façade – a narrow glowing triangle that brings life to the heart of the structure. Together, Sequis Tower and Acolyte provide a gleaming example of modern beauty and sustainability.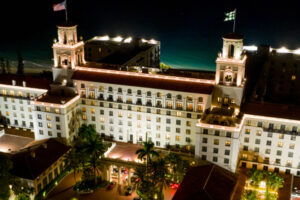 The Breakers Palm Beach (Acolyte)
The Breakers Palm Beach is a 125-year-old luxury resort that oozes old world glamour. Harry Flagler's statement hotel, modeled after Rome's Villa Medici on 140 oceanfront acres, is steeped in tradition – but The Breakers is also a Green Power Partner of the EPA, dedicated to environmental stewardship. They strive for energy efficiency and ecologically friendly practices. The towers and balustrades of the historic façade are illuminated by IP68 RGBW RibbonLyte in WH35 channel fixtures from Acolyte. Color changing light scenes are controlled through our 5 Channel DMX Interfaces. This installation brings modern currency to the opulent hotel, marrying modern LED technology with Gilded Age architecture.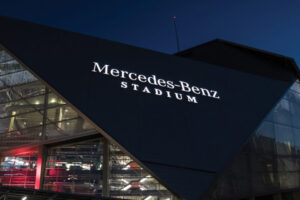 Mercedes-Benz Stadium (AgiLight)
Mercedes-Benz Stadium in Atlanta, Ga., is the state-of-the-art home of the NFL's Atlanta Falcons and MLS' Atlanta United FC. Powered by 4,000 solar panels and billed as the "most sustainable sports stadium in the world," it was the first LEED Platinum certified professional sports stadium in the U.S. Premium high-efficiency ULTRA Series LED signage modules from AgiLight illuminate the classy Mercedes-Benz Stadium signage.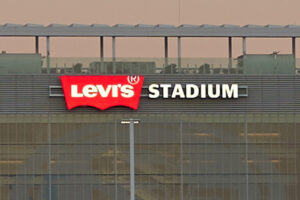 Levi's Stadium (AgiLight)
Levi's Stadium, home of the NFL's San Francisco 49ers, holds a capacity crowd of more than 68,000 fans. It has played host to Major League Soccer and Monster Jam, superstar concerts by U2, Taylor Swift, Beyonce and the Rolling Stones, and held major sporting events like Super Bowl 50. It has been awarded the LEED Gold certificate for Operations and Maintenance, the industry standard for sustainable design and construction. And that makes AgiLight LEDs a perfect fit! Levi's Stadium uses red PRO Series modules from AgiLight to illuminate the massive trademark Levi's pocket logo cabinet signs. Static White PRO Series modules light up its brilliant channel letters. Like good jeans, quality lighting never goes out of style!