This aluminum channel extrusion is only 0.2 in. (5 mm) wide and 0.2 in. (5 mm) deep. Use with a flat milky lens to create pinpoint lines of light in the tightest spaces.
Features
Available in custom cuts
55 degree beam angle
Flat milky lens
* NOTE: Product is in final stages of development. Specifications are preliminary targets and subject to change before product launch.
Width: 0.2 in. (5 mm)
Height: 0.2 in. (5 mm)
Internal Width: 0.12 in. (3 mm)
Beam Angle: 55
Interior / Exterior: Interior
Lens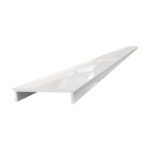 Milky
Downloads